The Flu and COVID-19 have several overlapping features:
Both are contagious respiratory illnesses that are caused by viruses. They can both spread from person-to-person, who are in close contact (within about 6 feet of one another). They are both spread mainly by droplets. Droplets that contain the virus can be released when people cough, sneeze, or talk and then land in the mouths or noses of people who are nearby or possibly be inhaled into the lungs. They may also spread via physical human contact (i.e. shaking hands) or touching a surface that has virus on it and then touching one's own mouth, nose, or eyes.
Both may present with: fever, chills, cough, myalgias, headaches, sore throat, shortness of breath, fatigue, runny or stuffy nose. Some may have vomiting and diarrhea, though these symptoms are more common in children.
The degree of symptoms for both can vary from none at all (asymptomatic) to severe. One or more days can pass between a person becoming infected and when they start to experience illness symptoms.
Both can result in the following complications: pneumonia, respiratory failure, acute respiratory distress syndrome, sepsis, cardiac injuries (i.e. MI, stroke), multiple-organ failure, worsening of chronic medication conditions, and secondary bacterial infections.
Due to their overlapping symptoms, it can be hard to tell the difference between the two illnesses based on symptoms alone. Testing will therefore play a very important role in helping to confirm a diagnosis. The CDC has developed a test that can check for A and B type seasonal flu viruses and SARS CoV-2. Clinicians should not wait for the results of influenza testing, SARS-CoV-2 testing, or multiplex molecular assays that detect influenza A or B viruses to initiate empiric antiviral treatment for influenza in the following priority groups: 1) hospitalized patients with respiratory illness; 2) outpatients with severe, complicated, or progressive respiratory illness; and 3) outpatients at higher risk of influenza complications (i.e. adults 65 and older, etc.) who present with acute respiratory illness symptoms (with or without fever).
Immunocompromised patients such as those with underlying lung disease and older adults are at a high risk of developing severe manifestations of both infections.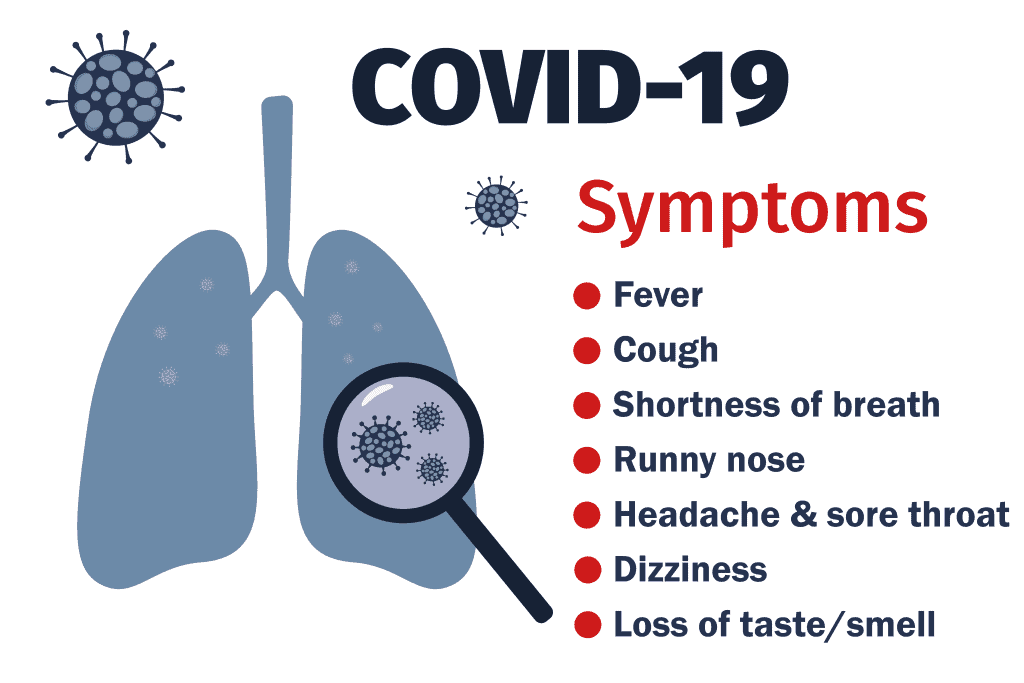 Differences:
Differences
Influenza
COVID-19
Signs/Symptoms:
S/S listed above
Other symptoms can include loss of taste/smell
How long symptoms appear after exposure & infection:
Typically, a person develops symptoms anywhere from 1-4 days after infection.
Can take longer to develop symptoms. Typically, a person develops symptoms 5 days after being infected. Symptoms can appear as early as 2 days after infection or as late as 14 days.
How long can someone spread the virus:
Most are contagious for about 1 day before showing symptoms. The most contagious period is usually during the initial 3-4 days of their illness.
It's possible for people to spread the virus for 2 days before symptom onset and remain contagious for at least 10 days after symptoms first appeared. People who are hospitalized with severe disease and people with weakened immune systems can be contagious for up to 20 days.
How it spreads:
Contact, droplet
Thought to spread in similar ways to the flu, however COVID-19 is more contagious among certain populations and age groups. COVID-19 has been observed to have more superspreading events.
Complications:
See above list.
Additional complications can include blood clots in the veins and arteries of the lungs, heart, legs, or brain. Children can develop multisystem inflammatory syndrome (MIS-C).

Long COVID can also occur. This includes a range of symptoms that can last weeks or months after first being infected with the virus.
Treatments:
Influenza antiviral drugs.
For mild-moderate COVID: (Patients not requiring hospitalization and oxygen at high risk of clinical progression):

– May be treated with anti-SARS-CoV-2 monoclonal antibodies Casirivimab 600 mg plus imdevimab 600 mg, or Sotrovimab. Bamlanivimab 700 mg plus etesevimab 1,400 mg can be used in regions where the combined frequency of potentially resistant variants is low.

For severe COVID (Patients requiring hospitalization and supplemental oxygen): Remdesevir (Veklury) given with or without dexamethasone is currently approved for treatment.
Baricitinib or tocilizumab may be added on in more severe cases.
Vaccines:
Multiple FDA-licensed influenza vaccines are produced annually to protect against 3 or 4 flu viruses that scientists anticipate circulating each year.
Currently there are three vaccines authorized for use in the U.S:. Pfizer/BioNTech and Moderna, which are both two-dose mRNA vaccines; and Johnson & Johnson' Janssen, which is the only single dose vaccine.
Summary of COVID-19 Vaccines currently available in the U.S.:
Vaccine
Dosing Recommendations
Special Notes
Pfizer-BioNTech (COMIRNATY)
0.3 ml (30 µg)

2 doses required, given 3 weeks (21 days) apart
-FDA approved on 8/23/21 in persons ≥ 16 years

-Authorized under the EUA to be given to:

Persons aged 12-15 years.

Provide a 3rd dose (i.e., additional dose) 6 months after the 2nd dose to:
1-People aged 65 years and older.
2-Long-term care residents.
3-Adults 50-64 years with underlying medical conditions.
4-People aged 18-49 with underlying medical conditions after considering individual risks and benefit.
5-People aged 18-49 at increased risk for COVID-19 exposure and transmission due to occupational or institutional setting (e.g., health care, schools, correctional facilities, homeless shelters).
Moderna
0.5 ml (100 µg)

2 doses required, given 1 month (28 days) apart
Authorized to be given to persons aged ≥ 18 years under the EUA.

Janssen (J&J)
0.5 ml given once
Authorized to be given to persons aged ≥ 18 years under the EUA.
In the US, influenza season usually begins in October and peaks between December and February. Coinfection MAY lead to worse outcomes; therefore, vaccinating against influenza and other vaccine-preventable infections will be a high priority for the upcoming year.
Per the CDC: COVID-19 vaccines may now be administered without regard to timing of other vaccines. Hence, other vaccines may be administered on the same day as the COVID-19 vaccine or within 14 days. Best practices for multiple injections should be followed. These include:

Administering each injection at a different injection site, separated by 1 inch or more if possible.
For vaccines that are more likely to cause a local reaction (e. g. tetanus-toxoid-containing or adjuvant vaccines), administer in different limbs than the COVID-19 vaccine, if possible.
Ensure each vaccine syringe is labeled with the name of dosage amount of the vaccine, lot number, initials of the preparer, and the exact beyond-use time, if applicable.

Note: information included in this document is current as of 9/28/2021 and may evolve as more studies are done on COVID-19.
References: