"To me, personalized care means doing everything I can to make sure our customers are satisfied"
Donna Kuhl wears a lot of hats. Technically, her job title is Pharmacy Associate- Medical records. Yet, those who work with Donna say she can be seen throughout various areas of her pharmacy on any given day, passing along her knowledge from 32 years of long-term care experience to her co-workers, lending an extra set of hands where she is needed, stepping in when they are short-staffed, and always eager to help in any way she can. She has been described by her pharmacy manager April Nobbe as a "Jack of all Trades", and is an instrumental member of a pharmacy team that rises to meet any challenge while continually striving to provide the highest quality service.
Personalized Care
For Donna, personalized care means doing everything she can to make sure our partner facilities and the people residing within them are taken care of. To accomplish that she has dedicated herself to always learn so she can meet customer's changing needs and be able to effectively assist with anything they may need.
As an organization, HealthDirect is fully employee-owned – Something that has a big impact on the way Donna approaches her daily work: "It makes me more mindful of things that can be done to save money, make customers happy, and provide my team members with any assistance or guidance with their workflow to create a less stressful work environment."
"I see personalized care in action every day, such as when the receptionist greets caregivers that are here to pick-up prescriptions, when our Order Entry Techs need to call the facilities for clarifications, when the billing team members are calling insurance companies or speaking with responsible parties explaining their bills, fill technicians filling medications for the daily runs, the inventory specialist making sure we have what we need to get our orders filled, and the pharmacists that are available to assist not only our customers and the doctors but also to support all our other team members with any questions we might have."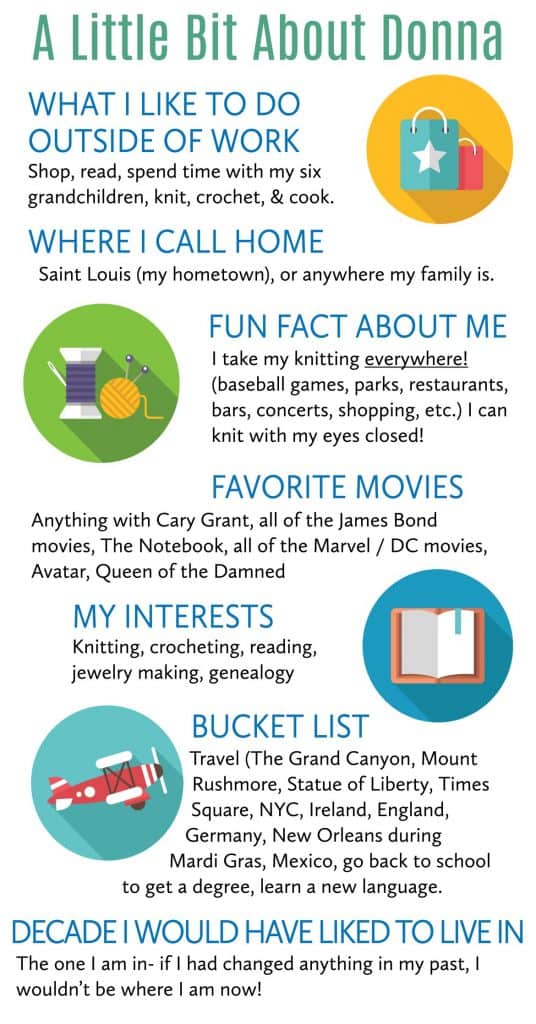 Employee-ownership
Donna's hard work and drive to be well-trained and highly knowledgeable in many jobs throughout her pharmacy embodies what it means to be an employee-owner. We are thankful for her hard work, dedication, and the positive influence she is within her pharmacy. But of all the important roles she plays, she says her favorite is that of a loving grandmother of six. To her, home is wherever her family is. Luckily for us and our customers, that happens to be in the St. Louis area.