My favorite part about working at HealthDirect is the people that I work with. Everyone there works as a team to get the job done and there is a never a dull moment."
This Spotlight is on one of our bright employees from our Appleton, Wisconsin pharmacy, which serves the greater Green Bay Area. We are proud to introduce Alberta Chase, who is currently the Interim Order Entry Supervisor in Appleton.
Alberta is being recognized due to her tireless attitude in ensuring customers always get what they need, her hard work, and for exhibiting what it means to be an employee-owner. Her passion for working within the healthcare industry began back in her home state of Michigan, where she worked in medical records at a clinic. After completing her Associate Degree to be a Pharmacy Technician, she worked in a pharmacy in Michigan, and ultimately attended Baker College earning her Bachelor of Science in HealthCare Administration. She ended up at HealthDirect after she interned with Pharmacy Manager, Susan Perry, to complete her degree.
Customer-First Attitude
For Alberta, she imagines each resident as someone's family member, and the care she puts into her work reflects that. "It is important to get each patient what they need and make sure to do everything you can to do it. I feel it is important to treat people equally and as if they were family. If it were one of my family members, I would hope somebody else would want to the same."
To her, providing personalized care means each patient needs to be cared for in an individualized manner and to be there for them as if they were family. That attitude is contagious. Recently within her pharmacy, working with new facilities and their startups, a team member who was the designated technician for the facility went above and beyond to make sure each patient was not going to go without medications. Every day leading up to the facility's startup, this tech was calling each patient's doctor's office who had not gotten back to us with what we needed. The tech also was working closely with the administrator of the facility to make sure they were aware of what was going on and what was needed. This is what personalized care looks like in action – going beyond the call of duty to make sure each patient is getting what they need.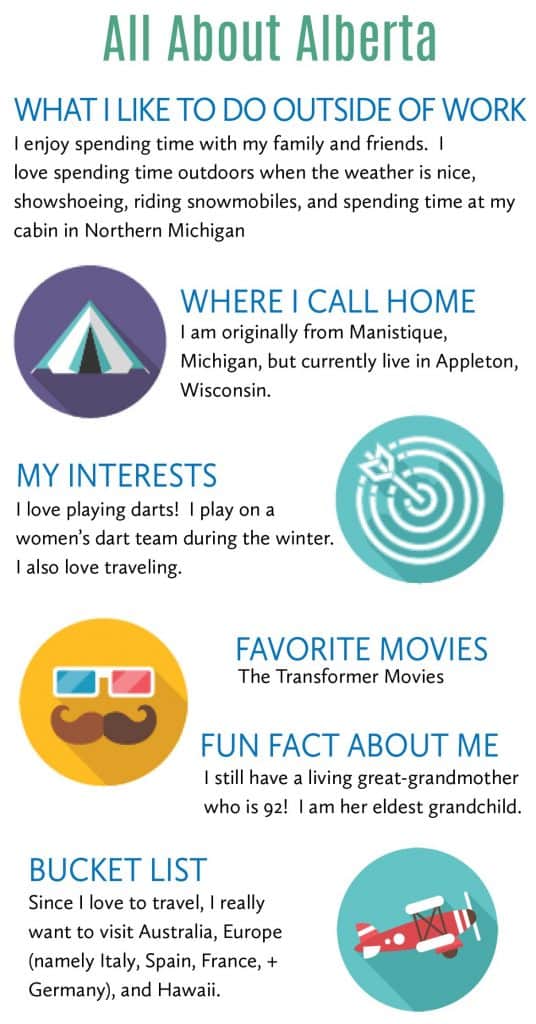 Teamwork Makes the Dream Work!
"Employee ownership makes me feel more involved with the company. It makes me want to do my best and contribute all I have because I am an owner and want what is best for the company." One of the unique things about the Appleton location is the Supervising Pharmacist there, Tad Schilke bakes individualized pies for each employee each year. As long as it is a dessert pie, Tad will make it! When pressed on a favorite, Alberta could not pick just one, because they are always so tasty. So far she has had key lime, raspberry, pumpkin, and Oreo.
One of Alberta's favorite things about HealthDirect is the people she works with. She says "Everyone there works as a team to get the job done, and there is never a dull moment". Aside from providing outstanding care, they like to have fun. They always take time out to celebrate each other's birthdays and have been known to do funny things like filling the birthday person's desk with balloons.
Thank you so much for your hard work and embracing employee-ownership, Alberta!