Personalized Care. Direct to you.
This month we are thrilled to shine a light on Jill Sanfelippo. Jill is our Client Services Representative for our Brookfield, Wisconsin pharmacy, and is responsible for ensuring the highest levels of service to area facilities. Jill has been steadfast and solid throughout changes or challenges that come up. She is always willing to help and truly cares about her customers and the people she works with.
Jill attended school at Marquette University and graduated with a Bachelor of Arts in Psychology and Criminology. From there she began her journey into pharmacy working for Walgreens, then into long-term care; along the way discovering a passion for helping people.
Customer-First Attitude
All told, Jill has worked in long-term care for over 20 years in different capacities, both inside and outside of an LTC pharmacy setting. As a member of the HealthDirect team she excels as a Client Services Representative, serving as the ever-important conduit between a partner facility and her pharmacy in Brookfield. Jill understands that communication is paramount in building lasting relationships, and is the key to providing outstanding customer service. To her, personalized care means providing the best care, best services, and best solutions possible to give our partners the best opportunity to in turn provide the best service, care and solutions to their residents.
Each facility and the people therein are unique. Our organizational mission of providing personalized care in every interaction drives Jill to continually pursue those best-fit, individualized solutions. Personalized care impacts her work every day: "It requires me to be a good listener, to ask a lot of questions, and to think very creatively to utilize the tools I have at my disposal to deliver the best possible service. It also pushes me to work with my team to develop new tools and new solutions for our customers"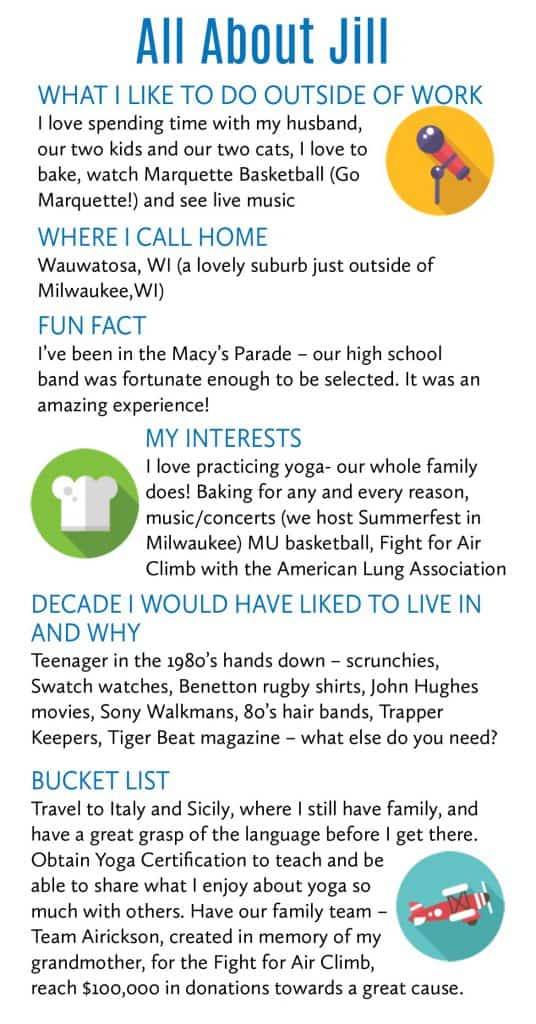 Employee-Ownership
"I take a lot of pride in what I do, because it is in my nature and because I am an owner"
"I very much value being an employee-owner. Having been through so many mergers and sell-offs, I appreciate the commitment to longevity at HealthDirect. As someone who has the ability to impact our day to day business and helps make some of those decisions, I approach all decisions thoughtfully, because at the end of the day they matter to all of us– we own it. I feel that I'm always considering the current circumstances and the bigger picture to make HealthDirect a better place to work and work with.
I take a lot of pride in what I do, because it is in my nature and because I am an owner. The services we provide impact me personally as I have had several relatives admitted to our facilities. I have experienced it firsthand and it motivates me knowing, just like with my family, that there are families on the other end who rely on us to take care of their loved ones."
Thank you Jill for setting such an excellent example of what it means to be an employee-owner, and to live our values in your day-to-day work!