A Record of Personalized Care.
This month we are excited to shine a spotlight on one of the newest members of the HealthDirect family, Judith Dagen. Recently, HealthDirect had the pleasure of welcoming the pharmacies of William's Apothecary in Lancaster, Pennsylvania to our family, which is where we got Judith from!
Williams is renowned in the Lancaster, Pennsylvania area for their service and reliability, attributed directly to the people who work daily to put their customers first. Judith has dedicated her professional career to helping others, within the realm of pharmacy and in other professional fields. She was with Williams Apothecary for 26 years, and we are excited that we have her and her experience on our team!
Experience Where it Matters.
Judith works as a pharmacy technician at one of our smaller locations, nestled amongst the modern villas on the picturesque campus of Willow Valley retirement Communities in Willow Street, Pennsylvania.
Though she has been working in a long-term care pharmacy environment for the past 26 years, she has also spent time in retail pharmacy with various organizations previously. At one point, she worked as a bus driver for special needs children for ten years. Her experience and dedication to customers is why she is such a valuable asset to our team.
What Personalized Care Means to Judith
Providing personalized care in every interaction is our company mission. That process begins with developing relationships and getting to know someone as an individual to be able to provide them with care that is truly personalized. Judith gets to know her customers, calling them by name, and doing what she can to show she cares about them. She loves interacting with residents and going the extra mile to help them. One of her funniest memories of working at her facilitiy was when she got a resident a cup of water, who then proceeded to choke and cough and gag until her teeth fell out. Fortunately, everyone was fine and they got a laugh out of it.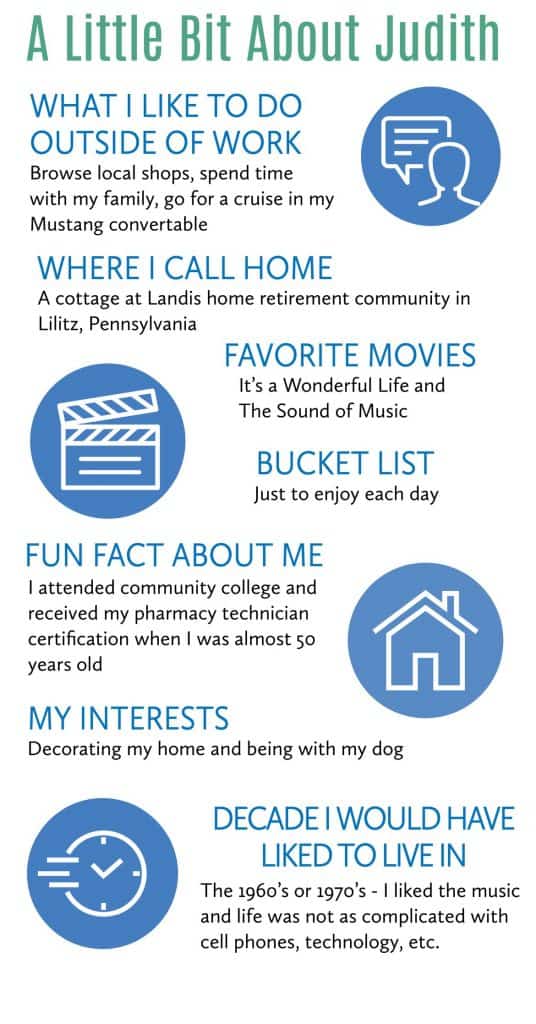 Well Done, Judith!
We asked Judith how the term "personalized care" impacted the work she did every day. She said "Sometimes it means it can take a little longer, but in the end it gives satisfaction". Every day she comes in to work, giving her best for her team all the employee-owners here at HealthDirect, and for that we thank you Judith.