Embracing Employee-Ownership
As an employee-owned organization, we take great pride in recognizing the hard work and dedication of our people. It is our great pleasure to shine a spotlight on Raymond Goulet for his efforts to provide high levels of personalized care to both our organization and the people we serve every day.
Raymond is a delivery associate for our Rochester, New York pharmacy. He is responsible for ensuring our customers receive their prescriptions and orders in a timely manner. As the face of HealthDirect, Raymond takes a great deal of pride in the work he does and works diligently every day to ensure deliveries go out on time.
A Pharmacy Favorite
Raymond Goulet has been with HealthDirect since March of 2018. Despite being hired for a part-time position, it was quickly apparent to management how valuable he was to the pharmacy, so they moved him to full-time. "When I asked my pharmacist team who they thought embodied our company values and should receive an employee spotlight, the responses returned in an overwhelming majority for Raymond," says Pharmacy Manager Sara Kelsey.
"Ray has a can-do attitude; he is always trying to learn new facets of our daily pharmacy operations to help out in any way he can. He is an all-around good guy, is happy and able, and we know we can always count on him to help his co-workers if they are behind or cover a shift for someone – and everything he does, it is with a smile."
Personalized Care
To Raymond, personalized care means putting a smile on his customers' faces. He has done such a great job that many customers even ask for him by name to make their deliveries because they know he is reliable and enjoy seeing him. "Knowing my customers are taken care of and happy is what drives me daily," says Raymond. "It makes me feel good about my job."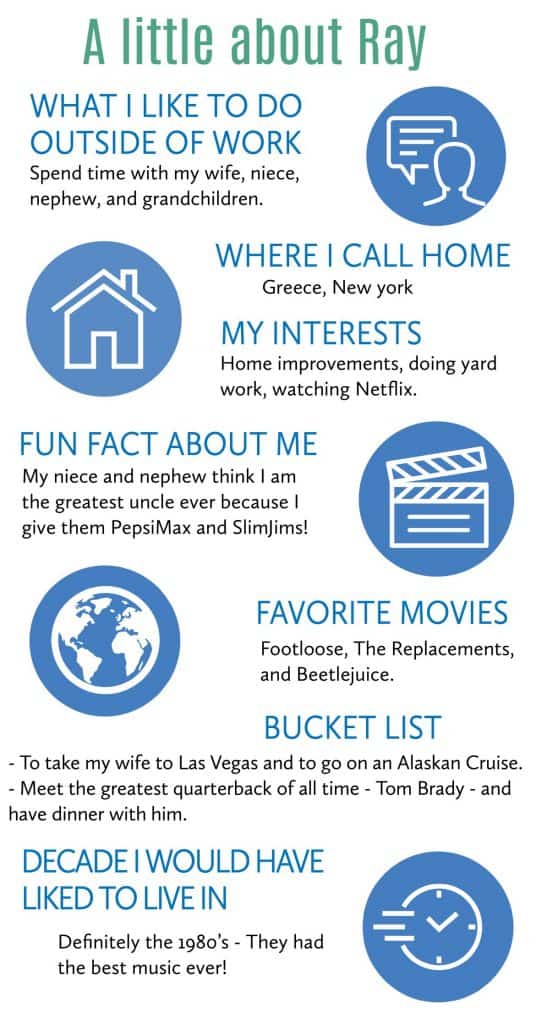 Thank You Ray.
From moving inventory to fixing medication carts, vehicle maintenance, medication destruction, packing, and scanning – Raymond does it all. Like a utility infielder in baseball, he can reliably field many positions within his pharmacy, wherever he is needed, on any given day. His entrepreneurial spirit, dedication to learning, and desire for self-improvement are exactly what we love to see in our employee-owners. Thank you for all your hard work, Raymond.