Addressing Polypharmacy
Polypharmacy, the concurrent use of multiple medications by a single individual, is a common and concerning issue among older adult patients. As we age, the risk for developing chronic health conditions becomes more common, along with the number of medications used to manage these disease states. Polypharmacy in older adults has been linked to an increased risk for adverse drug events including falls, medication errors, failure to achieve treatment goals through non-adherence, and increased healthcare utilization and cost burden. Medication management strategies, including medication regimen reviews, deprescribing, patient education and monitoring, are vital in reducing the risks associated with polypharmacy and improving medication related outcomes.
How Polypharmacy Develops
Aging increases risk of multi-morbidity
Multiple medications to manage disease
Multiple prescribers
Prescribing cascades
Failure to deprescribe
Self-medicating without communication
Consequences of Polypharmacy
Greater healthcare costs
Adverse drug events and interactions
Complexity and risk for errors
Medication non-compliance
Increased hospitalization rates
Decreased health-related quality of life (HRQOL)
| Medication | Instruction |
| --- | --- |
| albuterol HFA 90 | 2 puffs every 4 hours as needed |
| aspirin 81 mg | 1 daily |
| beclomethasone HFA 40 | 2 puffs twice a day |
| carvedilol 25 mg | 1 twice daily |
| chlorthalidone 25 mg | 1 daily |
| citalopram 20 mg | 1 daily |
| gabapentin 600 mg | 1 twice daily |
| insulin glargine 28 units | 28 units at bedtime |
| losartan 100 mg | 1 daily |
| metformin 1,000 mg | 1 twice daily |
| naproxen 500 mg | 1 twice daily |
| omeprazole 40 mg | 1 daily |
| prednisone 20 mg | 2 daily |
| simvastatin 40 mg | 1 daily |
| terbinafine 250 mg | 1 daily for 15 weeks |
| zolpidem 5 mg | 1 at bedtime |
Polypharmacy – Appropriate vs. Inappropriate
Appropriate Polypharmacy
All prescribed medications have a clear therapeutic objective agreed upon with the patient
Medications are achieving therapeutic objectives
Medications are optimized to achieve benefit while minimizing risk of adverse drug reaction(s)
Patient is motivated and able to take all medications as intended
Inappropriate Polypharmacy
Indication for medication is no longer applicable to treatment goals
Medication is failing to meet therapeutic objective
Medication(s) present a high risk for adverse drug events or harmful interactions
Patient is unable to take medications as prescribed
Medication Management

Polypharmacy – The simultaneous use of multiple medications to treat diseases and other health conditions.

Impacts of Medication Errors – A medication error is defined as "any preventable event that may cause or lead to inappropriate medication use or patient harm while the medication is in the control of the healthcare professional, caregiver or patient"

Medication Regimen Review – Medication regimen review is a structured evaluation of patient's medicines with the aim of optimizing medication use to achieve treatment goals.

Deprescribing in Older Adults – Deprescribing is the planned and supervised process of dose reduction or stopping of medication that might be causing harm, or no longer be of benefit. Deprescribing is part of good prescribing, backing off when doses are too high or stopping medications that are no longer needed.

Control of Your Medication List – Maintain and update your medication list (include prescriptions, OTCs, vitamins & supplements). Utilize a single pharmacy, work with your care team to simplify your medication regimen, report any new or unexpected drug-related symptoms
Deprescribing
Deprescribing is the process of tapering, stopping, discontinuing, or
withdrawing drugs, with the goal of managing polypharmacy and improving outcomes.
Reducing polypharmacy can help decrease chance of drug interactions, adverse events, falls, improve health outcomes, adherence and patient satisfaction, and decrease healthcare costs.
REMEMBER: SOME MEDICATIONS REQUIRE TAPERING WHEN
DISCONTINUING TO AVOID WITHDRAWAL OR REBOUND EFFECTS.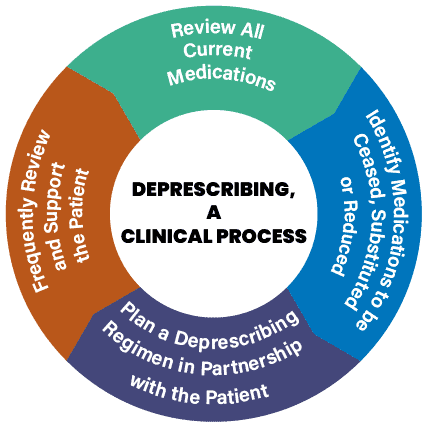 Having regular discussions with your medical care team, including your doctor and pharmacist, can help determine when it is appropriate to reassess your medication list and treatment goals. Always consult your medical providers before making changes to how you take your medications, best results are achieved through open communication and interdisciplinary guidance. Deprescribing should only be considered with provider approval and oversight. Additional resources on deprescribing for patients, providers and caregivers are provided below.
Additional Resources