To use Aspirin, or not to use Aspirin – That is the Question
Heart disease is the leading cause of death in the US for those 65 years of age and older.
As people age, their risk for clotting increases due to several factors:
Decreased vasodilatory (widening of blood vessels) and antithrombotic properties.
Increased procoagulant factors.
Increased risk of atherosclerosis (the build-up of cholesterol plaque in the walls of arteries) and clot formation.
Aspirin irreversibly inhibits platelet function, reducing the risk of atherothrombosis. For decades, aspirin has been widely administered for ASCVD (atherosclerotic cardiovascular disease) prevention. However, aspirin does not come without risk as it can increase the risk of bleeding.
Updated Recommendations of Use of Aspirin in the Prevention of ASCVD
Guidelines have recently changed in regard to Aspirin and who should receive it for primary prevention. Below are the guidelines from the American Diabetes Association (ADA), American College of Cardiology (ACC) and the American Heart Association (AHA).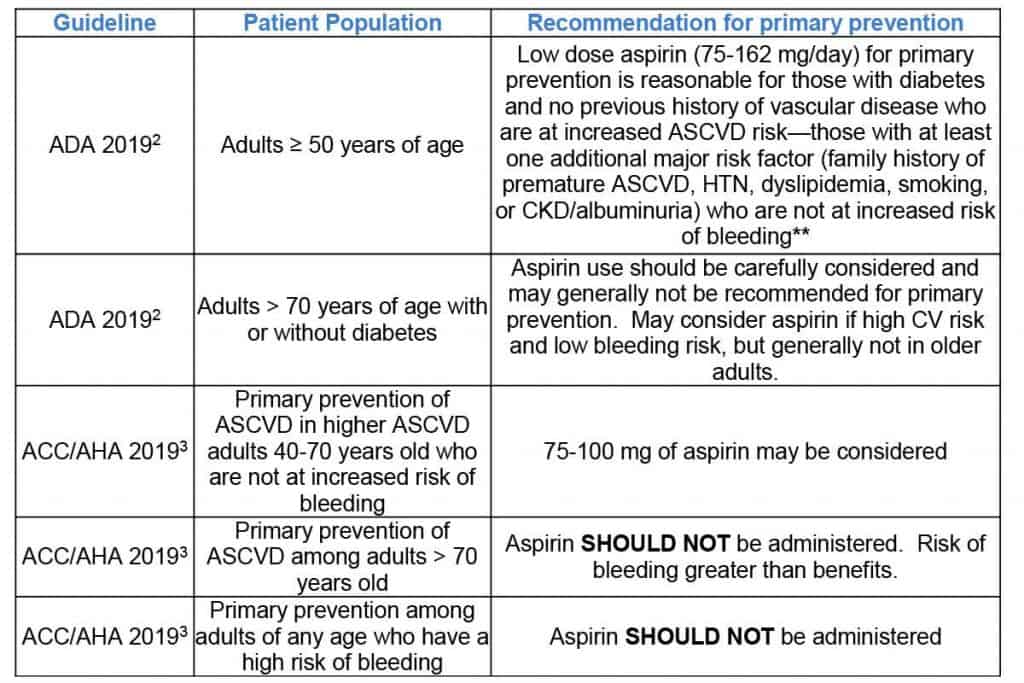 **Those at an increased risk of bleeding include patients with a history of GI bleeding or peptic ulcer disease, bleeding from other sites, age >70 years, thrombocytopenia, coagulopathy, chronic kidney disease, and concurrent use of nonsteroidal anti-inflammatory drugs, steroids, and anticoagulants.
Note, the above recommendations are only in regard to primary prevention. The ADA recommends using Aspirin 75-162 mg/day as a secondary prevention strategy for those with diabetes and a history of ASCVD (i.e. MI, CVA, TIA, etc.). The ACC and the AHA also recommend aspirin for secondary prevention in those with a history of ASCVD.
ASCVD Risk Calculator
The ACC provides a calculator to determine a patient's 10-year risk of ASCVD. It is recommended for primary prevention patients.
Low risk: <5%
Borderline risk: 5-7.4%
Intermediate risk: 7.5-19.9 %
High risk: ≥ 20 %
Partner with an Experienced Senior Care Pharmacy
As your pharmacy provider, we understand and respond to your resident's individual medication management needs. By working together your team we develop a comprehensive plan that promotes resident wellness and enriches care.
To learn more about how HealthDirect can work with you to find the best medication management solutions for your facility's needs, call (888) 331-3883 Monday – Friday, 8:00am – 4:30pm EST, to speak with one of our dedicated team members. Or, connect with us by visiting our contact page.
---
References: