Pharmacy Change During a Pandemic
Business is certainly not "as usual" in any industry, especially long-term and supported care. Staffing needs are being evaluated and altered almost daily, vendor/visitor/admission protocols are following-suit, and what used to be a standard – the pharmacy services model – is now being altered to match restrictions as well. Despite these challenges, healthcare providers need to function, and as part of that function, they need to provide superior services and care to remain competitive and relevant. So, what if part of your care-model is subpar? If you have been considering a pharmacy change, are you to cease all consideration for the foreseeable future? What if that foreseeable future is 6 months, 12 months, 18 months away? Who defines when you and your community are ready to make a change? And what is the greatest concern – the conversion process itself, or quality & continuity of services after the conversion?
The following video gives an overview of how we have adapted our conversion process. Take a look and then read on for more information on common concerns and full details of how our teams is successfully manage pharmacy conversations remotely.
Common Concerns
When polled – executive leadership who had previously been entertaining the notion of a pharmacy change, reported the following primary areas of apprehension:
How do I gain staff and corporate buy-in at this point?
The answer really lies in the how high or low the need for a change is. Be it service quality, cost, or value-added offerings – the contributing factors leading to your decision to entertain a pharmacy change before COVID19, are likely still in play, and are unlikely to go away without action.
There is so much change already, why add to it?
This response is similar to the response above. Change is always present in HealthCare and although this is a new change at an unprecedented pace, the question remains; what is the level of need & urgency in your community to make a pharmacy change? Pharmacy conversions do not need to be confusing, inefficient processes that interrupt care to your residents. A well designed, well communicated, well-deployed pharmacy transition should be the norm, and can be achieved.
Shouldn't I just wait until the environment settles down before changing pharmacies?
The short answer is "yes". However, one of the greatest question-marks we are faced with is – what will the "new-normal" look like, and when will we see it? The bottom line is – if you need more from a pharmacy, the conversion process can absolutely be managed in the current environment. Pivoting from the usual models will be necessary, but the implementation of a quality pharmacy-services program is well within reach and can be realized if the mutual focus remains on the drivers behind a good start-up.
Elements of a Successful Transition
Successful pharmacy conversions are built around three key areas – planning, communication and engagement, and execution.
Pre-pandemic, and excluding contract terms, limitations in these areas arose due to simple variables – typically time and/or schedules. Baring any major time-constraints, it was very easy to navigate through, and adjust the plan to accommodate the stakeholders of the pharmacy-conversion.
In the current environment, the perception of most is that because facilities are minimizing traffic in and out of the community, a pharmacy conversion is simply not feasible. Additionally, staffing concerns and other resource constraints are viewed as major limiting factors.
Although these challenges are now magnified, they are not entirely foreign. Long-term Care is a dynamic world where schedules (amongst other things) are often changing, and time is a hot commodity. Likewise, staffing and resources are commonly valued at premiums simply because of the industry we work in and serve. That said – the presence of, and changes related to, COVID19 have certainly altered the construct of a "conventional" pharmacy transition, but have they eliminated the potential for a community to embark on a pharmacy change?
If we break down the components of a pharmacy conversion pre-COVID19 and present day, what do the differences look like?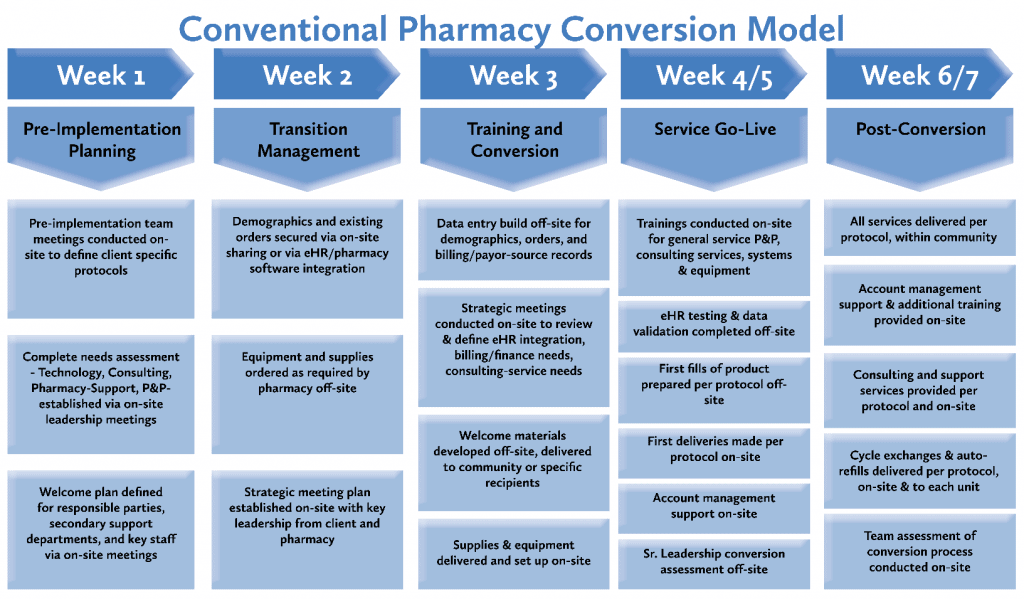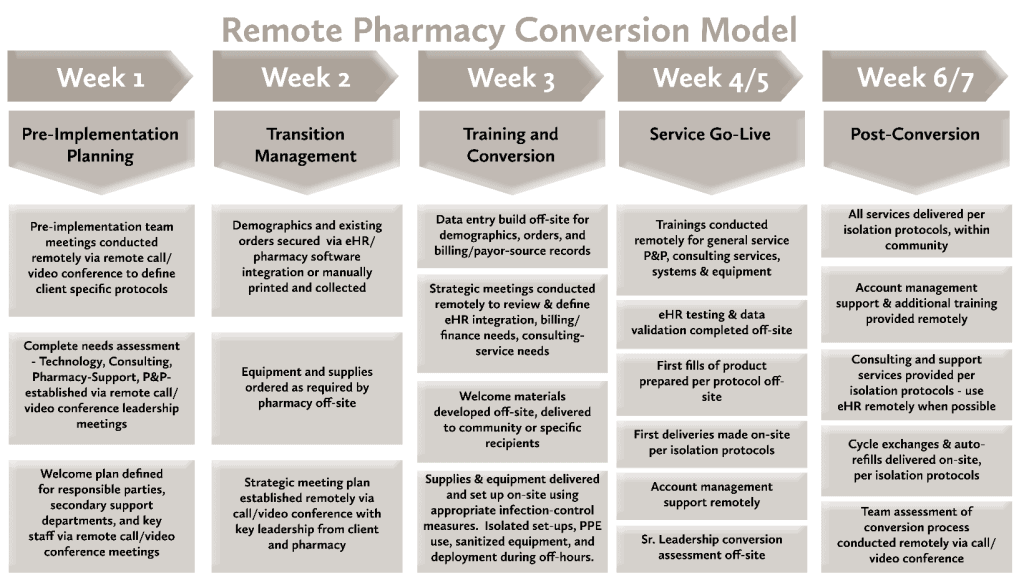 A Detailed Look at Managing Transitions Remotely
Although there are more granular details associated with a pharmacy conversion, in evaluating the critical areas of pre COVID-19 compared to present day transition scenarios – the area most impacted is the initial conversion phase – "Pre-Implementation Planning". Because of the initial level of engagement preceding implementation, a lock-out environment limits on-site meetings and data gathering but does not entirely prohibit the ability to successfully manage through a solid pharmacy conversion. Most of the tactical elements of the overarching transition strategy can easily be accommodated via video/phone conference. From a scheduling standpoint, this may make some tasks easier – especially for clients whom already have remote teams or team members who are positioned in different areas of a campus or community.
As we look at the equipment delivery and setup components – these are essential tools necessary for the assurance of a complete pharmacy delivery model. In extreme cases, this equipment can be implemented in a manner that mitigates risk into and out of the facility. Off-shift set-ups, of sanitized equipment, delivered in an isolated manner, by screened pharmacy personnel in full PPE is one way to ensure that equipment is in place in a timely fashion, while still limiting potential exposure to all parties involved.
With advancements in, and growing popularity of, video conferencing as well as bolstered integrations between eHR and pharmacy software tools – the concept of remote engagements, quality assurance management, and secure data sharing are already becoming more commonplace.
Despite a different approach and feel to the conventional pharmacy conversion process, there remains an opportunity to conduct a pharmacy transition in a way that supports the residents/consumers, limits negative impact to community-staff, and delivers on the business needs of the client.
The integrity of the relationship between pharmacy and client will remain the highest priority regardless of what the "new normal" is – in all likelihood, sooner rather than later we will need to adapt our style of engagement to match the variables that we are faced with.
Ready to Learn more about Partnering with Us?
To learn more about the benefits HealthDirect's pharmacy services can provide your long-term care facility, contact one of our helpful team members today. As long-term care pharmacy providers, we have the solutions to meet your care center's needs.