In long-term care, our greatest goals are to increase resident wellness and enhance quality of life. Falls can jeopardize a resident's overall wellness, but many are preventable with the appropriate safeguards. Fall prevention is a critical care component especially as 1 in 4 adults over age 65 fall every year. These falls result in 2.8 million seniors being treated in emergency departments for fall-related injuries. These injuries may include disability, functional decline, quality of life reduction and, even death. Using, and constantly reevaluating, fall risk interventions help protect residents from injuries that diminish cognition, independence and overall wellbeing.
Fall Intervention—Complete Patient Care Essentials
While it can be difficult to anticipate a resident's every need, fall interventions can be implemented to reduce risk. Falling is not a normal part of the aging process and, when an interdisciplinary approach is taken, fall prevention can be achieved.
Keys to Fall Intervention and Prevention
Complete patient care requires a holistic and interdisciplinary care approach. When multiple service providers, such as doctors, nurses and daily caregivers, physical and occupational therapists, activity coordinators and pharmacists, work together with a common goal of promoting resident wellness, we provide better, more effective care to the residents we serve.
How to prevent falls in nursing homes and other long-term care facilities:
Risk factor assessment upon admission

As part of HealthDirect's Pre-Admission Regimen Review, our pharmacists review the patient's medication regimen to look for any high risk medications and/or drug interactions that could potentially impair residents. This includes medication reconciliation and, when approved by a physician, high-risk medication reduction.

Care planning and fall risk interventions

Your person-centered care plans can promote nursing interventions for falls risk assessments. These interventions and assessments include an elimination of environment hazards, individualized toileting programs, wellness and strengthening activities and minimizing alarm use.
Common fall prevention and fall intervention citations
Failing to implement fall prevention can result in reduced resident quality of life and state citations. Most regulations focus on fall prevention and, if an incident still occurs, what nursing interventions for falls risk are in place. Below are a few of potential citations specific to falls. For a complete list of state and federal requirements please visit the CMS website.
F221 Restraints
F223 Abuse
F272 Comprehensive Care Plans
F280 Care Plan Revision
F281 Standard of Quality
F323 Accidents and Supervision
F353 Sufficient Staff
F520 Quality Assessment and Assurance
Regulation compliance Best practices
While environmental assessment and fall prevention protocols it is equally important to conduct post fall investigations. The investigation should happen ASAP to provide critical understanding of the circumstances surrounding the fall. A thorough investigation determines resident treatment and future fall prevention and interventions. Proactive and reactive fall interventions result in a more complete continuum of care and higher levels of regulation compliance.
Optimal Patient Care Best Practices
There are a number of best practices we can follow to promote our residents' safety. Use the list below to promote safety.
Inspect Environment Regularly

Look for unstable and appropriate height furniture, slippery or uneven surfaces, clutter and poor lighting

Investigate Recurring Incidents

Ask the resident what caused the fall and look for contributing factors. Talk to and obtain statements from everyone with knowledge of the incident to gain a complete picture.

Implement Interventions and Reassess

After the resident is cared for and the incident is understood, determine how the situation can be reassessed for future fall risk interventions.
What key fall factors were identified? Does the plan of care need a change? Would more staff training be helpful or is it possible the resident may need a medication evaluation?
The holistic process of prevention, collecting the facts and looking for improvement opportunities, helps to lead to best possible outcome for residents: a healthy, active and independent quality of life.
Pharmacy partnership for fall risk interventions
Medication plays a crucial role in resident mobility. Adverse reactions, changes in metabolic digestion, introducing or stopping medications and many other factors can contribute to fall prevention in the elderly. Here are some of the medications the Beer's List, revised by the American Geriatrics Society, recommends avoiding or using with caution as part of your fall prevention protocol.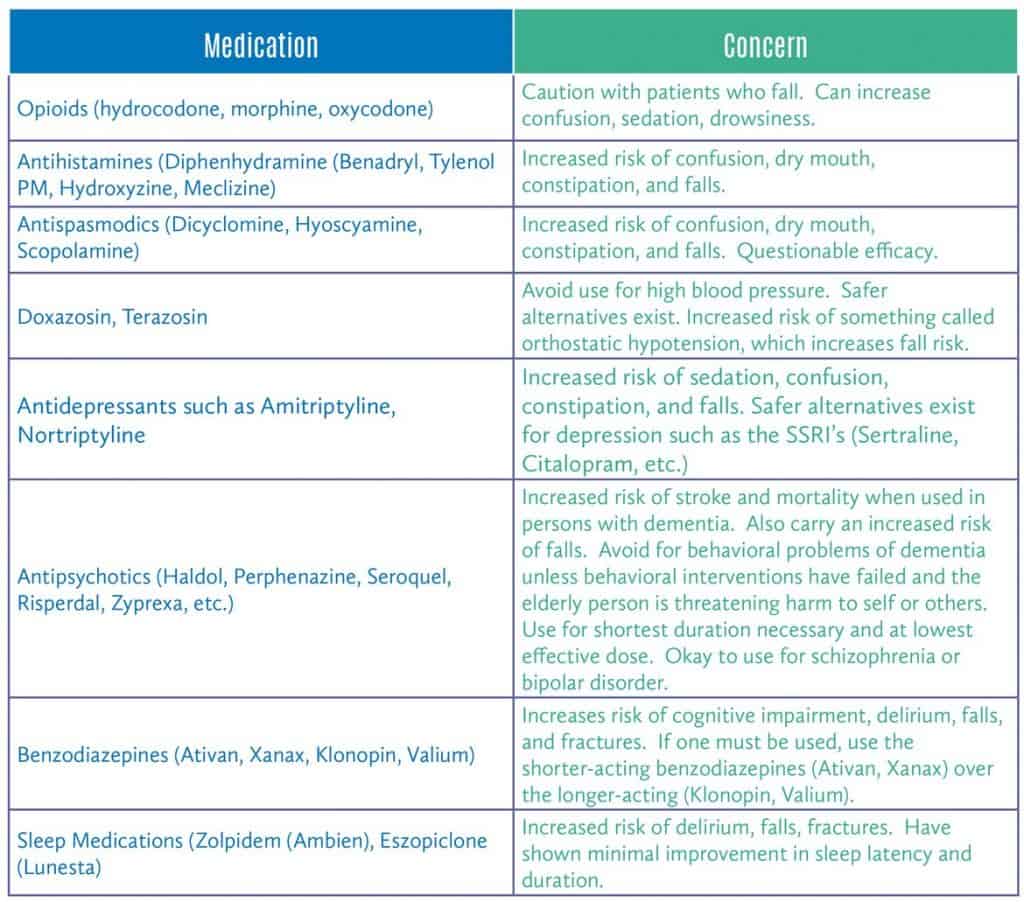 Know that, when you partner with HealthDirect, we constantly review medications for effectiveness, interactions and adverse reactions to find additional prevention opportunities. During our admission process, we also complete a complete medication review to look for potential complications.
This ongoing medication management means we are connected, available and constantly working with you toward enhanced resident wellness.
For more information about how HealthDirect can help with fall prevention, call us at (888) 331-3883. Our knowledgeable team is available from Monday – Friday, 8:00am to 4:30 pm EST. Or, if you prefer, visit our contact page.